Maintaining Morale While Leading Virtual Teams
To claim that remote work is becoming more popular would be an understatement of epic proportions. In recent years, several of the most successful software companies have gone completely remote, including Github, Hotjar, Invision, Harvest, etc. The use of virtual teams is increasingly becoming the standard. 
In the United States, remote workers have increased by 173% since 2005. According to PwC, 64% of millennials will be able to work from home at some point. We are also confident that this figure will skyrocket in the next few years.
Remote work won't only be an important element of the future of work, it is the future of work.
It's not all fun and games, though, with poolside seats, cheerful cafes, and jammies. Working from home offers its own set of difficulties. In today's blog, we'll discuss one of the most discussed aspects of remote work and managing virtual teams: team morale.
A variety of everyday behaviors, such as pats on the back, team lunches, water cooler conversations, and after-work drinks, have an impact on team morale. Unfortunately, this is also what is frequently missed by remote personnel. So, what can we do to keep remote team members' spirits high?
Communication
Both formal and informal communication methods can be challenged in the virtual workplace. We must work a little more to share what we're thinking and what we need from one another. In any virtual arrangement, frequent remote meetings with team members are essential – but don't overlook the value of casual talks to strengthen team ties.
Schedule one-on-one and group video meetings whenever possible. Face-to-face communication strengthens commitment, camaraderie and accountability significantly.

Make time for casual discussions. Don't be too shy to have catch-ups or informal chit-chats. Team members need a mechanism for conducting virtual "water-cooler" talks.

In written communications, be clear and succinct. Encourage your team to proofread their emails for tone and content as well as spelling and grammar.
Members of the Forbes Coaches Council also shared a few tips that business leaders can use to improve morale among their virtual teams.
Make time each week to share highs and lows.
The simple weekly habit of discussing highs and lows can assist in deepening ties and reinforcing positive events. Even minor achievements should be celebrated, since they add up over time to boost morale.
Marita Decker, FutureCourse Education
Find out what your team members need.
We can't possibly know what each and every person requires at every time. It's best to just ask what might increase involvement and improve morale. Listen to what they have to say, recognize it, and take notes. Go over the list with everyone, and then decide whether to start working on ideas immediately now or in a few days. People require attention.
Connection
Strong, healthy corporate cultures are built on authentic interactions and transparency among leaders and team members. One of your key obligations as a manager is to foster a sense of belonging among your employees. Distance makes communication more difficult, but not impossible.
Make meetings enjoyable. Break up the monotony of the virtual, flat-screen meeting. Start a meeting with a show and tell, a trivia game, an ice breaker, or a scavenger hunt (first one back with a cooking utensil, plush animal, funny hat, pet, vacation souvenir, newborn picture)… the options are unlimited.

Plan extracurricular virtual team activities like cooking lessons, yoga, and coffee breaks. Send s'mores ingredients and have a virtual campfire. Create possibilities for casual learning through virtual lunch and learns and TED Talks.

During staff meetings, take some time to check in. Ask your team what they're reading, cooking, watching, or making, and allow them to share their learnings.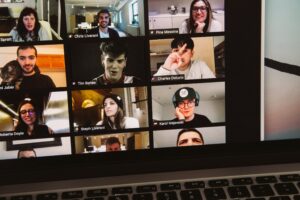 Encourage collaboration and communication.
Collaboration is the foundation of any successful company culture. To help your staff feel visible and involved, create ways for your team to stay connected, such as Slack groups or Jabber messaging. Maintain the team-building activities that contributed to the development of your positive culture. Use Zoom to host virtual happy hours and stimulate online "water cooler" conversations.
Dominique Law, Hired! Career Solutions
Plan non-work-related virtual events
Create enjoyable Zoom activities that have no other goal than to bring everyone closer as a group to boost morale in an all-remote company. You could, for example, perform virtual escape rooms together or watch a movie together on Netflix with a side chat.
Hannah Keeley, Team Keeley LLC
Create a buddy system.
When it comes to creating opportunities for true, meaningful connections, a little effort goes a long way. Organizations that construct buddy systems and foster team building through virtual happy hours (no alcohol required) and themed meetings have achieved success. This type of personal relationship-building boosts not only morale, but also creativity, teamwork, and joy at work.
Cheri Rainey, Rainey Leadership Learning
Commitment 
Employee engagement has always been the key to a devoted, effective workforce, and team morale and motivation are inextricably related to people's perceptions of their worth. Managers must engage employees differently when managing virtual teams. You may need to ask additional questions or be more precise when reminding employees of their value to the company. It's important to be deliberate in connecting your team to their mission.
Allow people to share their accomplishments, even little ones that may not be reported on on a weekly or monthly basis.

Verify that your team has all they need. Make yourself available. Keep in touch on a regular basis. Establish clear expectations and deadlines. Make sure you follow up and keep your promises. People are more concentrated on their duties when they are not interrupted or distracted by the usual office distractions. The longer they appear to be waiting for you, the more irritated they are likely to grow.

Use this time to ask your team members to participate in

virtual training

to master new skills. This will both increase and reinforce their contributions and value to the company.
Recognize your employees
A little acknowledgement goes a long way. Reward staff for their efforts, which will boost morale. Companies that typically host lavish events can fill the void with virtual or socially-distant in-person options. A handwritten thank-you card or a video message from the CEO is both affordable and significant if cost-cutting is a priority.
Set aside time for gratitude
This year has been difficult. All day long, I'll vouch for you. Concentrate on the positive and, in particular, make time for thankfulness. Gratitude is the quickest path to happiness and connection. Make it a part of your weekly conference call. Determine one thing for which each person is grateful. Also, communicate your gratitude to each team member individually. Another important aspect is to check in on them on a frequent basis.
Curtis J. Morley, Entrepreneur's Paradox
As a virtual team leader, concentrating on organizational communication, connection, and dedication will help your virtual teams not only survive but thrive in unpredictable times.