The Importance of Customer Focus in Outsourced Customer Support
Customer expectations are higher than ever, and your customers are analyzing your business more closely than ever before. They're comparing their interactions with your brand to the simple, quick, and customized interactions they've had with the best of the best. Those companies who do prioritize their customers and create a culture of customer-focus enjoy a competitive advantage and renewed loyalty. 
Customer focus has never been more crucial, with 89% of companies competing primarily on the basis of customer experience. However, there is still a difference between how many organizations believe they are customer-focused and how many customers concur. In fact, while 80% of businesses claim they provide "great experiences," only 8% of customers agree.
What is Customer Focus?
Customer focus entails prioritizing the demands of your customers. Customer-focused companies cultivate a company culture devoted to increasing client satisfaction and developing strong customer relationships.
However, customer focus is not only the job of customer service or any single team. While customer service capabilities are essential for customer focus, customer-focused businesses demonstrate that the customer experience is important throughout the organization, at every stage of the customer journey. This includes the following:
Sincerity of marketing campaigns

Transparency of pricing models

The simplicity of their sales cycle

The real quality of their products or services
Customer focus, according to Jonathan Brummel, Senior Manager, Premier Support at Zendesk, is the prism through which you assess all of your interactions with customers. It is fundamental to who you want to be as a company and how you want your customers to perceive you.
Customer focus is fundamental to who you want to be as a company and how you want your customers to perceive you.
How to Improve Customer Focus
Encourage Collaboration
To become a customer-focused firm, teams must collaborate to provide a consistent, overall superior experience. In fact, more than 70% of customers want businesses to work together on their behalf.
Support and sales teams can work together in the following ways:
When a consumer expresses an interest in learning more about a new product, an agent can flag the sales team.

A sales representative can refer a more technical question to an agent who specializes in that field.
And teamwork pays off—according to Benchmark data, collaborative sales and support teams have:
More prospects

More transactions are being made.

More transactions closed
Collaboration, on the other hand, should not slow down your teams' production, because it complicates things for the consumer. As a result, effectively cooperating on behalf of the client necessitates a connective layer that connects consumer data across departments. This enables teams to exchange insights without having to:
Interfering with their workflow

Providing the customer with information about what is going on behind the scenes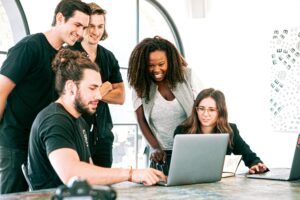 Make Your Customers Feel as Though They Have Been Heard
Every consumer has a story, and they don't want to have to tell that tale every time they connect with your brand. Customers are less likely to recall your organization as customer-focused if they feel neglected and have to repeat themselves.
"A big component of customer focus is making the consumer feel heard," adds Brummel. "And when they don't feel heard, the experience can quickly devolve."
Consider having to reintroduce yourself to a coworker each time you meet them in the workplace kitchen, and having to remind them of what you last discussed. It's neither personal nor customer-focused, but it's how many organizations engage with their clients.
Companies will require the same connective layer of information to assure customers feel heard. This provides them with the complete picture of the customer, such as:
Their given name

Information about their account

The last time they contacted you
This provides teams with the contextual information and conversation history they require to provide customers with the personalized experiences they want.
Meet Your Clients Where They Are
It may seem simpler to concentrate on a single communication channel and provide a wonderful experience there. However, according to new Zendesk research, interacting through your customers' preferred channels is a major motivator of loyalty.
The statistics are clear: an easy customer experience is a wonderful customer experience. Customers don't want to have to work hard to find your brand, and they shouldn't have to. That is why customer-centric businesses meet their customers where they are. Customers should be able to contact you whenever and however they wish.
Examining your consumers' demographics and the types of inquiries they frequently ask might be eye-opening. Best practices in the industry may advise you to offer a specific channel. You may also discover that a sizable portion of your clients prefer a mobile-first solution.
If that's where your clients are, you might want to include WhatsApp, SMS, or another mobile messaging channel.
Again, having a 360-degree perspective of the consumer will be useful for integrating discussions across channels. It guarantees that the context follows the customer. This enables your company to respond quickly and personally, regardless of when or how customers contact you.
Use Feedback to Improve
Another crucial aspect of creating a customer-focused organization is understanding how to manage client feedback. Instead of treating client complaints as if they were a game of dodgeball, customer-focused businesses:
Enhance the customer's voice

Make use of their feedback to improve the overall experience.
This could include:
Sending surveys to your customers

Creating an online community where customers can discuss their product or service experiences and vote on new feature requests.
It is critical to establish a feedback loop with your customers. Like any healthy relationship, your relationship with them should be two-sided.
One of the first steps in creating a customer-focused culture is to see customers as partners and collaborators rather than as consumers of your product.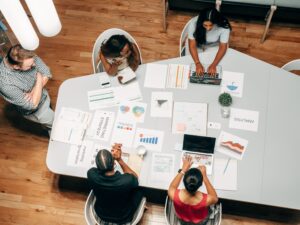 Combine Data and Empathy
Companies no longer have to guess what their customers want or decide for them, thanks to the increasing amount of data available. They can instead look at trends.
Taking a customer-centric approach to data, on the other hand, does not imply blindly using data. Instead, it entails merging data with empathy. That is to say:
Providing context for data

Compassionate data application

Using data to improve customer intimacy—learning who is using your product and what they are looking for.
For example, your product team may match a product update with customer support data to ensure that the change is relevant to individuals affected. Alternatively, instead of sending the same email to every customer, a marketing team could: 
Adjust content based on where each customer is in the customer journey

Content should be segmented based on the emails a consumer has previously opened.
However, segregating data frequently stops businesses from utilizing it decisively and in a way that actually helps the client. This is due to a lack of complete context. To begin, in order to successfully manage and interpret your data, you'll need to connect insights across systems and software.
Make Use of Artificial Intelligence to Anticipate and Address the Demands of Your Customers
Customer-focused firms aren't just reactive to their consumers' needs; they also meet their expectations proactively. And, thanks to artificial intelligence, proactive experiences don't have to be hard or expensive. For example, support teams may utilize machine learning to forecast customer happiness in order to reduce customer complaints proactively. Alternatively, sales teams may use a chatbot to proactively greet clients before they abandon their cart or demo request form owing to unanswered inquiries.
Proactively meet your customers' requirements rather than reactively. Managing a corporation amid rapid changes in modern technology is a difficult task. Day-to-day activities should aid in the achievement of long-term objectives. Never lose sight of the fact that having a flexible business and an influential culture will help you retain a strong dedication to customer service. Comment below if you have any examples of customer-focused cultures or ideas on how to develop a customer-oriented culture!
See our BPO case studies to see how we've helped businesses to grow.