How to do Customer Support Outsourcing the Right Way
Customer support outsourcing is an enticing concept for many businesses. Letting other people handle your customer service may help you save money, resources, and, in many cases, a lot of worry.
Unfortunately, there is no such thing as a one-size-fits-all approach, and there is no silver bullet to help the process go faster.
That is why you must carefully consider your options, especially if an external outsourcing company will be communicating directly with your consumers.
There are Several Types of Outsourcing
Business Process Outsourcing is a huge industry – a $131 billion market in the United States alone.
Companies outsource a wide range of tasks, including customer service. Things like payroll processing or healthcare services are also often outsourced. And outsourcing can be a cost-effective alternative when work can be done more efficiently or effectively by a third party, or when you don't have the employees or funds to engage a dedicated resource.
Luckily, 
Customer support outsourcing does not have to imply low-cost, scripted call centers. Other possibilities exist that act as distant partners or flexible expansions of your existing workforce.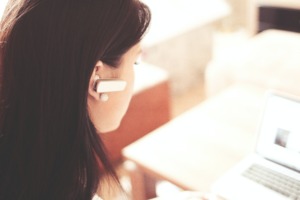 Before Engaging a Customer Service Outsourcing Provider
Before you start looking for outside support, you need to create a strategy for achieving your customer service objectives.
Here are five practical tips for running a smooth customer service outsourcing operation.
1. Establish Brand Voice and Tone Guidelines
Your clients are accustomed to the method you communicate with them, whether it's by text, phone, or through your branding.
As a result, an outsourced support team should sound exactly like your in-house support team.
Here's how you can do it:
Create a set of brand standards that spell out what your staff can and cannot say.

Run through possible scenarios that they may encounter in the future to see how they might behave.
2. Research Multiple Options
Some contact centers excel at managing high-volume, repeated discussions, while others specialize in more complex issues.
You should spend a significant amount of time looking for potential customer service solutions to guarantee you obtain the proper service for your needs. You'd have to take into account things like time zones, language requirements, and the minimum support volume, among other things.
3. Consider Legal and Security Risks
Before allowing a third party to access your documents, you should assess your internal security.
Determine which customer information is confidential. You may then limit who has access to particular information, such as credit card numbers and health records.
Also, have your legal team analyze any enforceable contracts you sign with the customer service provider before you sign them.
4. Invest In the Right Tools
You'll probably need to utilize communication tools like Slack or Zoom to interact with your outsourced support crew if necessary. Time tracking software can also be important if you're billing your outsourced call center personnel by the hour. 
5. Set Aside Time for Training
No matter how hectic your schedule is, you will need to devote a significant amount of time to training your team.
Why is customer service training so important?
The quality of your company's customer service may make or ruin it.
After one bad encounter, 51% of customers say they will never do business with that company again!
Furthermore, because of a single poor service transaction, customers are 65% more likely to disseminate unfavorable comments.
All of this emphasizes the significance of providing excellent customer service at all times.
Nine Tips for Successful Customer Support Outsourcing
Your clients' experience when they come to you for assistance is an important component of your company's brand. So, if you're thinking about outsourcing part of that help, make sure you do it well.
1. Make Sure You Have Support from the Top
Making outsourcing work takes dedication; you won't get the rewards until you put in the effort necessary to make the relationship a success. You may not have the time or resources needed for long-term success if your executive team is solely looking for cost savings.
2. Speak With a Variety of Providers to Choose One That Best Suits Your Needs
Different services cater to various needs. Some people excel at dealing with high-volume, repeated interactions, while others prefer to deal with more intricate and in-depth circumstances (perhaps at a higher cost per interaction). Time zone crossings, simplicity of training, language requirements, and your minimum volume are all factors to consider.
3. Be in Charge of Quality and Training.
No one else will ever know or care as much as you do about your consumers. Commit to working with your provider to ensure that their employees are kept up to date and that they meet the same high standards as your own.
4. Don't Expect to Save a Lot of Money Right Away.
Yes, your hourly costs will be reduced, sometimes dramatically. This type of support outsourcing, on the other hand, is more about increasing flexibility while keeping quality than it is about cutting expenses.
5. Take Into Account Legal and Security Concerns
Check your legal duties and internal security before allowing third-party access to sensitive consumer data. Some clients develop unique views for their outsourced assistance, with higher-level access reserved for their own employees. Before signing any contracts, have your legal team analyze the circumstances.
6. Invest in Internal Systems and Tools.
Companies frequently have in-house technologies that are ambiguous or provide a risk of data loss or compromise if used wrongly. Before providing external access, do an audit of the technologies your internal team employs.
7. Understand Your Brand Voice and Tone
As we mentioned earlier, your clients are accustomed to the method you communicate with them. When you hire a third-party support team, you want them to sound exactly like your own. That means you'll need to be really clear in your training, present plenty of examples, and be willing to collaborate with your provider to ensure that they fully understand your strategy and your brand voice.
8. Build a Partnership of Two-Way Communication
Continual communication is vital for effective support outsourcing. What is functioning effectively, where does fresh training need to be provided, and what are the support agents learning that might benefit the internal team?
Treat your outsourced agents as if they were an extension of your team, and you'll get more value out of your investment and be more likely to catch any problems early.
9. Recognize the Nature of Your Incoming Support Requests
Are there any sorts of customer discussions that an external agent would be better suited to handle? Can you triage incoming chats and swiftly direct them to the appropriate support group?
A competent customer service outsourcing company, among other things, provides exceptional customer care.
Outsourcing your support requirements can help you maintain a high level of customer service without making the expenditures required to develop an in-house staff from the ground up.