Using Remote Team Technology to Boost Performance and Regulatory Compliance
Keeping up with technology is important for any business. But, why would you simply keep up? Why not set the trends yourself? When it comes to remote team technology, Noon Dalton is a firm believer in innovation. But more than innovation, we strive for simplicity – not only for our customers, but for ourselves as well. 
So, when given the opportunity to merge innovation with simplicity in tech, who wouldn't jump at it? We've been lucky enough to experiment with various types of remote team technology so that we can hone in on what does and doesn't work.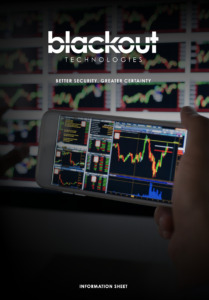 We recently ran a month-long trial with Blackout Technologies, to see what kind of impact it would have on our teams' productivity. Our key takeaway from this trial was that, by limiting device functionality and social media access, productivity and efficiency increased between 9.3% and 22.5% across different metrics. Blackout also aids significantly with regulatory compliance, data protection, and information security relating to directives included in the PCI DSS and the GDPR.
Below are some of the other results that you may find interesting. 
Why Remote Team Technology is Important 
There's no getting out of this one – remote teams need reliable technology to function. 
Remote team technology is important in many ways. It helps with:
Communication 

Problem-solving

Data protection

Risk mitigation
But it does more than just this – If a year and a half in various stages of lockdown has taught us anything, it's that productivity falls by the wayside when teams get distracted. In fact, Professor Gloria Mark posited that, once distracted, it can take a worker up to 23 minutes to get back into the flow of their work.
So, in the spirit of simplification, surely there's an app for that? Yes, yes there is. 
Remote Team Technology: Using Blackout 
We ran an experiment with Blackout Technologies to see whether our teams could be more productive than they already were, particularly with the current Work From Home environment in place.
Blackout is a remote team technology company that specializes in keeping company data secure whilst teams work remotely and/or in the workplace. The technology can restrict the use of non-approved applications, including camera functionality and encrypted messaging, enabling employers to reinforce controls already available for desktop terminals and managed devices.
Essentially, Blackout replicates existing corporate policies regarding data storage and use, and device use, and applies it to devices of both in-house and remote workers during work hours. By doing so, it also replicates existing controls found on other workplace devices, such as desktops, internal networks, and company-issued devices.
There are multiple benefits:
Utilizing a non-invasive combination of proprietary cutting-edge technologies, Blackout provides Mobile Device and App Management software to define restricted areas of the workplace and regulate the smart devices within them. Blackout's system locates and identifies smart devices in defined areas or at specific times, ensuring they are compliant with the employer's security and compliance policies. The technology can also have a beneficial impact on workplace productivity by removing the ability for employees to access unauthorized functionality and social media on their smart devices.
Here's what we learned while working with Blackout over the course of a month:
1. It's Easy to Use
Once installed, Blackout automatically activates on a device based on both time scheduling and geo-location triggers. This meant that we could manage staff access to their phones during work hours only. Their private use of their phones remained their own. 
Of course, there were some initial worries of invasion of privacy – especially for staff who did not use company phones. However, they agreed to run the test and their fears were quickly forgotten once they saw how it worked. Blackout does not have any access to any personal data on any device, nor does it track user behavior.
2. Does Location Matter?
In short – no. We saw no difference between those who used the technology at home and those that used it in the office. 
Despite this, we will continue to run further tests in the future around office-based functionality, especially utilizing Blackout's Bluetooth beacon technology that allows for far more granular controls. 
3. Performance Increased
One of the things we wanted going into the trial was to test all functionality of the app. So, we designated specific team members to "misbehave" while using the app. They were asked to turn the app on and off throughout the day, at times when they wouldn't normally be using their devices for personal reasons. 
Thankfully, the app performed as expected when tested. We were sent warnings and reports when staff misbehaved, through Blackout's administration and audit platform.
But what about overall productivity? Well, the numbers speak for themselves. 
For those staff using Blackout, we noticed the following average performance improvements:
Increase of total task volume completed – 10.72%
Improvement in average speed to complete Task 1 – 9.29% faster
Improvement in average speed to complete Task 2 – 22.54% faster
Before the test period, the average employee was completing 1054 tasks per month. During the test period, the average employee completed 1167 tasks – an increase of 113 tasks per month showing an increase in productivity of 10.72%
Before the test period, the average processing time for Task 1 was 14:00 minutes. During the test period, the average processing time for Task 2 was 12:42 minutes – an increase in efficiency of 9.29%.
Before the test period, the average processing time for Task 2 was 02:53 minutes. During the test period, the average processing time for Task 1 was 02:14 minutes – an increase in efficiency of 22.54%
When annualized, this would extrapolate to an additional 1,356 tasks completed by each employee which would have its own intrinsic value to the company.
Furthermore, the time saved per employee over the course of the year would come to circa 188 hours, equating to an astonishing 24.5 days of lost/gained time (assuming an 8-hour workday).
Assuming an average wage of $10 per hour, this equates to a significant 'saving' of circa $1,890 per employee every year.
What We've learned from Remote Team Technology
In general, remote team technology is vital for performance. From communication, to problem-solving, to data security, you need technology to get the job done properly. The important thing is to choose technology that will simplify your efforts, not make it more complicated to get your work done. 
That's why Blackout, a unique and multiple award-winning technology, is a fantastic addition to our company and our employees. It makes our functionality easier, it runs in the background, and it only alerts you when something is wrong. And, as you can see from the data, it actually works. 
By increasing our productivity, information security, and regulatory compliance, we decrease our overall costs and risk, and better provide for the needs of our clients. Our team is happier having their work on track, and they're able to clearly see the results of their efforts. 
Noon Dalton provides remote teams to hundreds of companies globally, including large businesses, fast-growing scale-ups, private equity, and venture capital funds. And, we use great technology to help us get the best out of your remote teams. Click here to learn more.